This is a quick test with a 3% solution of DAS (CAS 2718-90-3) from the APUG group buy.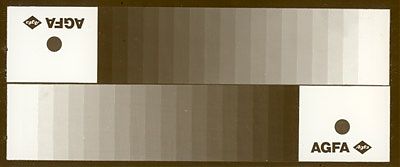 An unsensitized pigment tissue was brush sensitized with a 3% solution of DAS and dried overnight. It was exposed through a pair of AGFA steptablets with between each step a log 0.15 density step. Darkest step is log 2.85.
The tissue was transfered to a fixed glossy RC paper. Scan was done with an Epson 4890 with Vuescan, all settings neutral.
What can be observed is the very long and regular tonal range with a relatively low dmax. It is extra long because of the brush sensitization with a saturated solution that has a more pronounced self masking.