(This article is not up to date anymore. POdnc has changed a lot since the article was written. It even changed name! I have not used the new version very often. The curve tools described in this article –flipping/mirroring– exist also in the new version.)
…
As a digital negative user I am constantly looking for software and methods to refine the digital negative workflow. For many years now I am using two approaches: a 'colored and curved' negatives workflow (RNP array / Charthrob) and a QuadToneRip (QTR) workflow. My QTR workflow uses partitioned black and gray inks with a yellow toner in variable percentages to adapt the UV blocking to the process used. Finetuning is done with a build in charthrob generated curve.
I use the colored negative approach for my digital negative workshops because it is printer and operation system independent. In both workflows I keep constantly refining the correction curves that linearize the output per printing technique. This implies sometimes that I end up with a second curve on top of an allready existing curve. It's not a big problem to use two curves on top of each other but I always felt it was cleaner to merge them into one final curve. But how? Photoshop doesn't have the tools for that.
Long story short: I found out how to do it and published about it here and here.
But I always hoped to find an easier method to do these curve manipulations.
In comes POdnc!
This year by coincidence I got in contact with Pierre Olivier Tavernier a photographer and programmer and the person behind an application called POdnc. In 2007 I already looked briefly into this application because for my workshops I need an accurate and broad overview of all methods and software available to my students. At that moment POdnc did not look very mature and being windows only, for the mac user I am, simply not very practical.
At this second view things were different. To test POdnc I used VMware fusion virtualisation software and windows xp on my macbook pro.
I asked Pierre Olivier Tavernier about his background and about the program:
Are you a programmer or a photographer?
I have a BS in computer science from the US and I have a French Computer programming degree. I also have a US master in Business administration.
Photography is a passion. I always had a camera when I was a kid in France. When I started to work for a University in the US I was able to attend some B&W darkroom classes where I learned to develop film and print images. Since then, the darkroom still has the magic. It's not the instant gratification you get from a digital camera.
You are frenchman living in the USA?
I came to the US after my French diploma. I wanted to learn the language. I met a girl when I was in college and we got married so I did not return to France like I planned originally. We now have a son and a daughter.
Tell us about POdnc?
I started to develop POdnc 4 yeas ago. I still have the original code somewhere I think. It would only compute a curve. I started making the program to simplify the whole negative making process. My goal is to create a swiss army knife program where everything would be together. I also wanted to make something that even a novice would be able to use.
What user group do you have in mind?
I really do not have any user group in mind. If someone has a request and I can program it, I will add it to the program. I am customer oriented. I do not know everything and I am always willing to learn new things.
What I like in POdnc
The things I like most are the database and the curve manipulation tools.
The program has a database that stores all process related data. From paper brand, water temperature to sizing method etc. You can easily add your own workflow details in it, making a notebook for all this no longer neccesary. Database enries are organized in projects and within a project several curves can be generated. For example in the Gum printing project I have several curves with different blocking colors.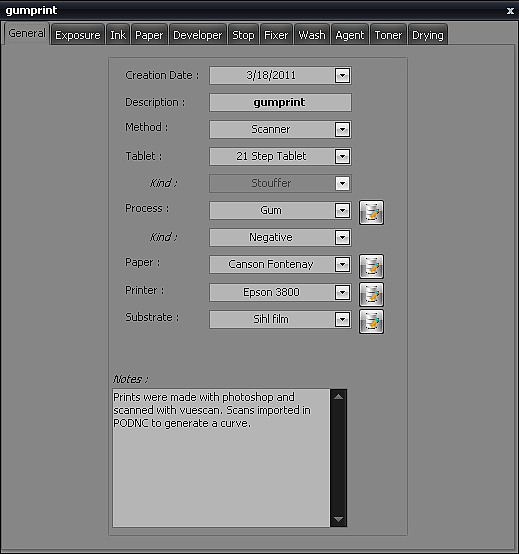 database main tab


POdnc has also several curve manipulation tools.
The curve flipping tool. With one click of a button the curve is inverted. Begin and end are reversed and the curve turnes round the diagonal. This manipulation is useful when an existing curve that is made to be aplied on a positive needs to be applied on a negative. Or the other way around.
The curve mirroring tool. This mirrors the curve around the diagonal axis whitout inverting it. A mirored curve merged with it's unmirrored counterpart give a straight curve. Can be useful for work on positive-positive techniques.
The curve merging tool. On top of an existing or imported curve a correction curve can be loaded and merged into a new curve. Handle this tool with care because POdnc cannot revert imported curves (yet). If you make a mistake you have to import the curve(s) again.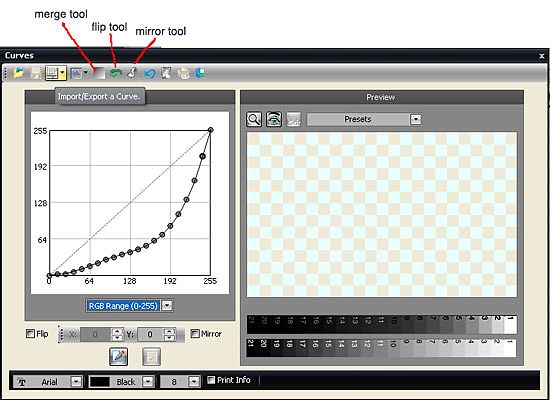 curve tools, printing is also done from this window


The tweaker. This is a tab on the main screen that can be used to finetune curves on specific tonal locations. This extra correction is merged with the merge tool into the existing curve.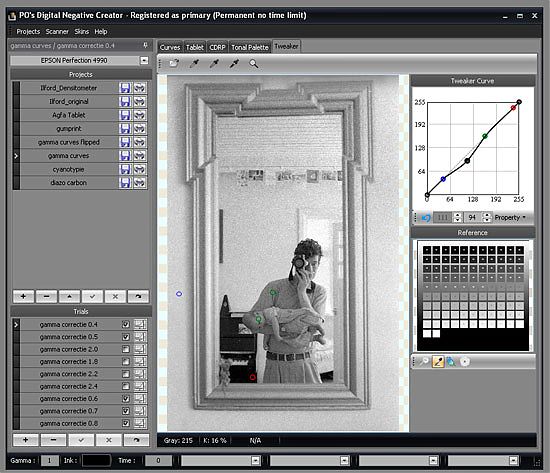 the tweaker tab

The database and the posibility to store several curves in one project makes it very easy to compare curves and workflows. Curves can be either generated by the program itself or imported. For tri color work one could easily store and compare curves for each pigment used.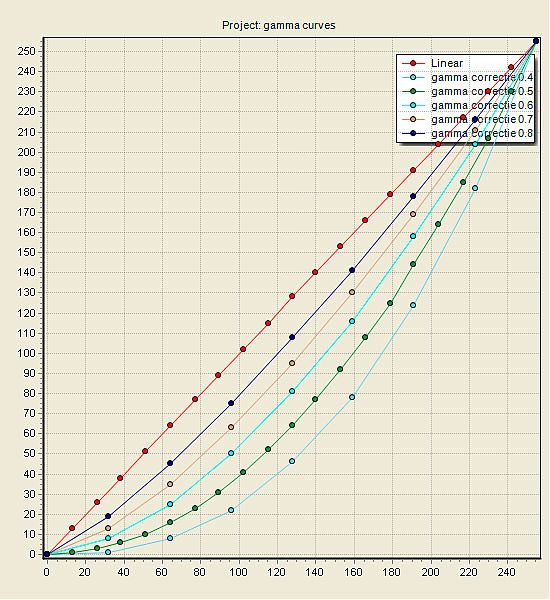 gamma curve comparison


POdnc's basic functions
POdnc is a full flown digital negative application. It can also connect to your scanner and printer. So you can do all scanning and printing of tonalpalette's and color arrays and the printing of your final image from within the program. For starting users this means it's a very cheap road to digital negatives. You don't need photoshop for this anymore.
POdnc can help you find a process related standard printing time and a blocking color for maximum density and white.
The standard printing time is found by analyzing a printed (stouffer or other) steptablet.
POdnc has an adapted color array method to find a process related blocking color. Linearization is done by printing a tonalpalette generated by the program and afterwards analyzed also by POdnc.
All scanning and analyzing is done from within POdnc. Found time and color and the linearization curve are also stored in the database.
When all this is done, all details about the workflow can be accessed at any time from the database making it a repsoitory of all your digital negative stuff. The program can also be used to print your final curved and colored image to a negative. Choose a project and load an image in the curve window and hit print. Then the program asks you if the image has to be inverted and flipped, the curve and color layer are applied and the image is printed. Easy!
How good are the curves?
POdnc curves look a lot smoother than charthrob generated curves. There's an internal smoothing algorithm that does this. My initial tests with gum and van dyke printed fine!
Is it mature enough for demanding users?
The program deserves definitively a larger userbase. Curve quality needs some thorough testing and reporting from many users, but my initial tests look good.
In the past months Piere-Olivier was very responsive to error reports and even more to user wishes. The current version looks quiet stable. And the curve tools are awesome.
There's a user forum and some instructional videos about interface, printing, calibration, scanning, templates on the POdnc site. You can download the program here. A license is $30.